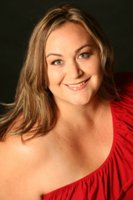 Meet Amada Anderson, the CEO and founder of New York Broadway Tours. She is an experienced licensed tour guide for the State of New York, an active member in The Guides Association of New York City, and a passionate musical theatre lover!
She has her Bachelors in Music and Theatre from the University of Miami.
She is an award-winning Actress and Singer who has been featured on QPTV's Sing, Sing, Sing! and as a host on The Sound Box. As an Entrepreneur featured in The Power Players Guide to Playing Powerfully In The Game Of Life and as a Tour Guide on VH1's You Oughta Know-Artist Gin Wigmore and CUNY-TV's Study With The Best. Her Philanthropic work has been felt at Planet Connections Theatre Festivity & The New York Musical Theatre Festival and featured on NBC's Today Show and published in Zombies​ Magazine​ by Beckett Entertainment (Volume 1, no.2), both of which directly credit Thrill The World NYC a non-profit that dances for world records and for charity in tribute to Michael Jackson.
Her favorite roles include: Mrs. Clackett/Dotty (Noises Off), Dominique Du Monico (Lucky Stiff), Domina/Psudeulus understudy (A Funny Thing Happened On The Way To The Forum), Reverend Mother Superior (Nunsense/Mushaganuns), and many more! Want to see her in action? Visit www.amadaanderson.com.
She has met and worked with famous award winning talent such as Marvin Hamlisch, Marcy Heisler and Zina Goldrich, Raymond Allen "Ray" Liotta, Michael McElroy, Mark Hamill, Dick Clark and many others!
When Amada is not giving tours, she performs Off Broadway and works part time at the notorious Julliard school, a performing arts conservatory.
NYC is the world's greatest living social experiment. Let her share with you the true dramatic stories, seemingly larger than life, stranger than fiction, yet it all happened here.
If you are interested in working with Amada as a tour guide and can sing, please contact her via email. Info@NewYorkBroadwayTours.com
---
Editor and Broadway Fanatic: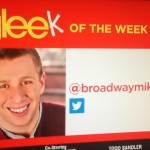 Meet Michael Haber, an editor, musical theatre actor, and Broadway fanatic. Michael I. Haber is a old versatile Musical Theater performer from Brooklyn, NY now living in Old Bridge, NJ with big Broadway goals! He has already begun to make a jumpstart into the business, appearing in various Film and TV projects in just two years such as "The Big C","Made in Jersey", "Blue Bloods", "The Following", "The Carrie Diaries". "Now You See Me", "Admission" "Home", and "Unforgettable". He made his Off-Off Broadway debut in a production of "Snow White" at the Roy Arias Theatre Center in New York City under the direction of Adam Roebuck. He is currently a lifetime member of The Actor's Project NYC (TAPNYC), under the direction of Bobby Holder, and recently performed in the troupe's 25th and 26th season showcase. He is currently taking a short break from the company for development projects and more. He will rejoin the company later this winter. In addition, he has trained with the Broadway Artists Alliance and the Oxford Shakespeare Company. Michael has performed at many diverse venues such as the State Theatre in New Brunswick, NJ, the Sovereign Bank Arena in Trenton, NJ and the PNC Bank Arts Center in Holmdel, NJ. In November 2012, he made his Cabaret debut at New York's "Don't Tell Mama" Cabaret and Piano Bar (and will return to the cabaret again later this year). He has appeared in a variety of New Jersey Community Theatre productions, most recently appearing with the Spotlight Players of Matawan, NJ. Besides being part of New York Broadway Tours, Michael is currently developing his first solo cabaret "CLOSER TO A DREAM", featuring a diverse set of Broadway, Jazz, and a little Pop/Rock. He plans to debut his solo act somewhere later this upcoming year.
---