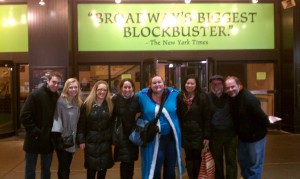 New York Broadway Tours loves sharing their love of musical theatre!  
We understand that travelers need a schedule to see it all here in NYC so we provide both a set schedule and we also give the option to BOOK a tour based upon YOUR availability. We recommend reservations at least 24 hours in advance to secure the day and time of your choice.
Gift Certificates?
Visit our gift certificate page for more info.
Private Tour?
Click on the button below to book or purchase a private walking tour.
Note that discounts or voucher codes can not be honored for private tours. We apologize for the inconvenience.
Any questions or concerns please call (646) 582-9165 or use the form below to send us a direct message, or email us directly info@newyorkbroadwaytours.com